Hamlin Florist - Flower Delivery to Hamlin
Florist Hamlin New York
Fabulous Roses, Exotic Orchids and Other Floral Favorites
Rockcastle Florist offers the best selection of roses, orchids, tulips, hydrangea and fresh cut flowers in the Finger Lakes area. We are a second generation, family owned and operated floral design firm. The current owners, Keith and Wendy Rockcastle, pride themselves in ensuring that their customers have access to the finest, freshest, highest quality flowers available.
Local Same Day & Rush Flower Delivery | Nationwide Same Day Flower Delivery
Additional Information for Hamlin
For additional details about our same day flower delivery service to Hamlin and to view bestsellers for Hamlin, please take a moment to visit our Hamlin delivery page.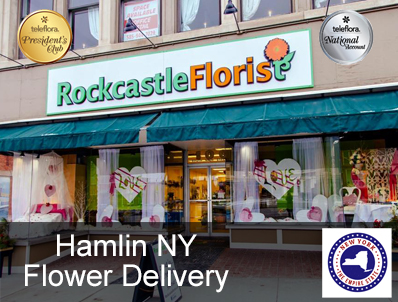 Serving Hamlin
Hamlin Flower Delivery Options
We offer same-day delivery of fresh flowers, roses, planters, cookies, and occasion flowers. Learn more about our Hamlin flower delivery options.
Hamlin Neighbors
Avon
Bloomfield
Brighton
Brockport
Canandaigua
Churchville
Clifton Springs
Fairport
Fishers
Gates
Greece
Henrietta
Hilton
Holley
Honeoye
Honeoye Falls
Irondequoit
Livonia
Mendon
Newark
Palmyra
Penfield
Phelps
Pittsford
Rochester
Rushville
Scottsville
Spencerport
Victor
Walworth
Webster
Williamson