Brockport Florist - Flower Delivery to Brockport
Florist Brockport New York
Farm Fresh Flowers, Plants & Gifts
Rockcastle Florist has been serving customers in Brockport NY since 1951. We offer gorgeous farm fresh flowers, many of which are purchased directly from flower farms in California and Ecuador. Our design team creates stunning traditional, contemporary and metropolitan floral designs. We offer a 100% customer satisfaction guarantee with every single flower arrangement we design and deliver. If for any reason you don't love the arrangement we deliver, just contact one of our floral design centers. We will replace that arrangement with one of equal or greater value, absolutely free of charge.
Local Same Day & Rush Flower Delivery | Nationwide Same Day Flower Delivery
Deliver Flowers to Brockport Area Schools
Additional Information for Brockport
For additional details about our same day flower delivery service to Brockport and to view bestsellers for Brockport, please take a moment to visit our Brockport delivery page.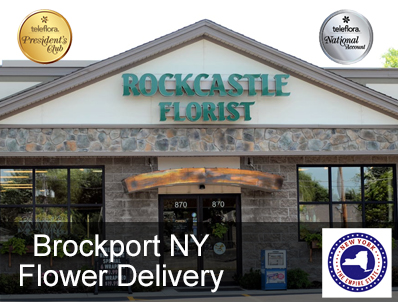 Serving Brockport
Brockport Flower Delivery Options
We offer same-day delivery of fresh flowers, roses, planters, cookies, and occasion flowers. Learn more about our Brockport flower delivery options.
Brockport Neighbors
Avon
Bloomfield
Brighton
Canandaigua
Churchville
Clifton Springs
Fairport
Fishers
Gates
Greece
Hamlin
Henrietta
Hilton
Holley
Honeoye
Honeoye Falls
Irondequoit
Livonia
Mendon
Newark
Palmyra
Penfield
Phelps
Pittsford
Rochester
Rushville
Scottsville
Spencerport
Victor
Walworth
Webster
Williamson